Malta Pre – Honeymoon Trip
Hi Loves!
Welcome back in another blog post of our page! The reason that i mentioned the "Pre" honeymoon is because the real honeymoon didn't came yet!!!
Today i would like to share with you some of my favorite moments and places that i have visited back in July. Vas and I honeymooned at Malta, and let me just say, that place was absolutely beautiful, wonderful and unforgettable for sure!
A lot of my dreams come true due to this amazing travel trip and i will explain how below…
Yes! That's correct!! One of my biggest wishes all these years was to swim with dolphins and guess what?? I DID IT!!!!! i was so excited that day, i was talking so much, laughing all the time and my heart bit was on the top!! We had the most amazing time and for sure was one of my favorite places on earth and best experience ever!
We spent a lot of time relaxing by the pool, with the best companion…dolphins!!!! Can you guys imagine??
As you realize until now i am a crazy animal lover, so any experience or action with animals it gets me crazy to the moon!!!
For that amazing experience i would love to thank the Malta Marine Park for the great job and the love that they have for those species.
Yea, that made us happy!
We're from Cyprus, so we're used to being out in the pools and at the beach with heavy temperatures. So that trip was really amazing full of adventure, escapes and love of course!!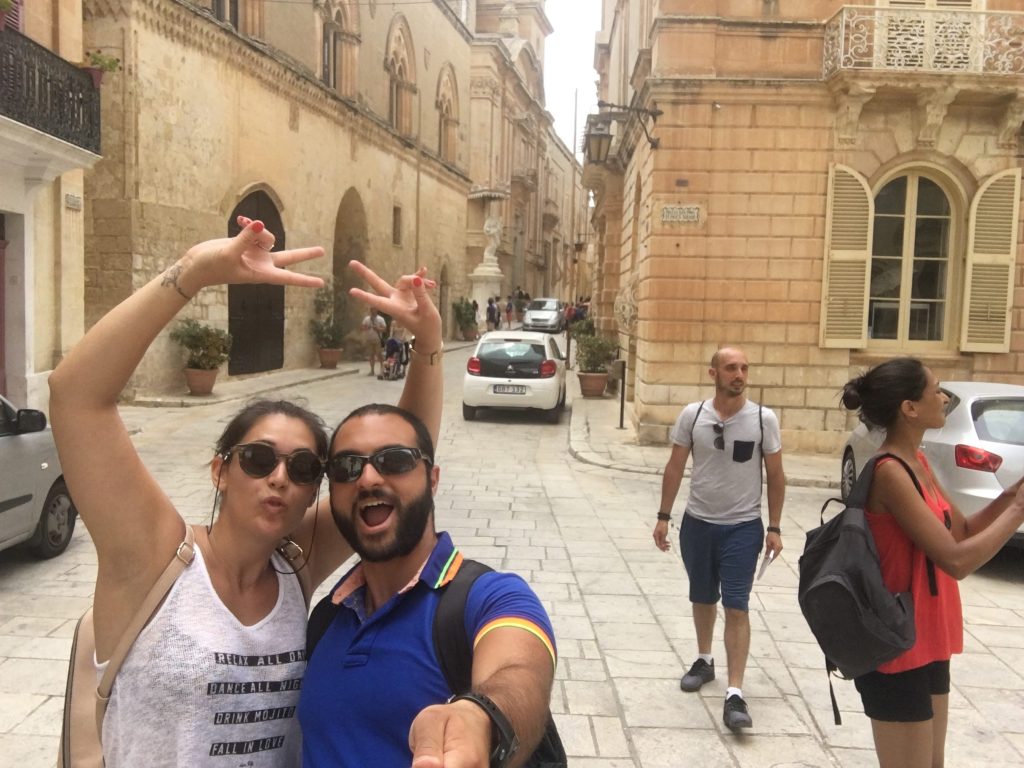 We visited the city center of Malta and we were going around the little, cute markets. And guess what? That was great time for selfies!!
And we got a tunning for free!!!! That's the way to do it guys! Walk and walk and walk under the sun! Just also careful :p So peaceful and relaxing days…
Also another dream came true….
Exactly!!! That was awesome guys..! My adrenaline was on the top! On my back side of my brain was a little bit of fear as well, but there was no chance not to do it!! It is a life experience and i didn't want to loose it at all!!!!
Great animals, stunning creatures…Thanks to Wildlife Park Malta
No more words to say..You can see my smile and blessing…:) <3
We had just a wonderful time there… From our favorites travel trips ever!
That was our friend Horsy! 🙂
Vas and i needed that time in Malta
Great people, great place, great everything!!
For sure an unforgettable trip for ever… ans totally worth it.
So yeah, that was basically our trip!
But we'll be back, for sure…wait for us Malta, Dolphins, Grand Tiger! <3
How did you find our pre – honeymoon trip guys? Please let us know by leaving your comments below!
Lots of love,
LeoniDimxx
Tags :
animals
beautyfull
greatful
greatplace
honeymoon
life
Lifestyle
liveyourlife
love
malta
moretocome
myoneandonly
positivevibes
staytuned
summertime
tothemoonandback
travelingaround
travellers
Πάει καιρός από τότε που έγραψα για τελευταία φορά. Να όμως που ήρθε η ώρα να ξαναγράψω, όχι ένα απλό...